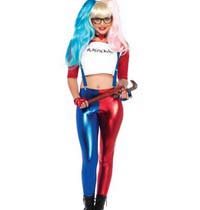 The breakout star of DC Comics, Harley Quinn of "Suicide Squad" is one of the sexiest super-villains in the world comics. Thanks to her eccentric, anything-goes personality, Harley Quinn has become more than a passing Halloween fadâ€"she's a cultural phenomenon that's quickly becoming a classic costume go-to. She might be deranged and psychotic, having picked up the Joker's notoriously deviant behavior, but she's also wildly passionate about experiencing thrills and excitement, even if that means kicking around some snowflakes in order to impress the demented object of her affection.

Her irresistible "carpe diem" attitude towards life is a fun persona to bring into the boudoir, especially because of her ultra provocative wardrobe that ranges from sultry to playful and always with a punch of punk glam accents. It's the perfect get-up for bringing out your inner bad girl because when Harley Quinn joins the party in the between the sheets, this deranged yet adorable lollipop is triple-dipped in psycho. When you transform into the infamous mischief-maker, get ready to stir up trouble as the queen of chaos and trickery.
Harnessing the wild and rambunctious sprit of Daddy's Lil' Monster all starts with the outfit. If you're a longtime fan of Harley Quinn, slip into the classic body-hugging jumpsuit from the Batman comic book series and play the devious and bubbly court jester ready to cause a ruckus with the Joker, your partner in crime. For an ultra vampy look, set the mood for naughty foreplay with a Harley Quinn corset top, which creates the sexy hourglass figure with its waist-cinching effects. The Clown Prince of Crime is sure to swoon over your accentuated décolletage, thanks to the extra bust support of the corset underwire.
Another sexy essential from the closet of Harley Quinn is the hot pink tutu with an overdose of ruffles. Pair this ultra playful and girly skirt with a tight-fitting distressed top, fishnet stockings and utility boots for a fun mash-up of sweet and salty. Look for tops in black, white, and red--her signature color schemeâ€"and if you're in the mood for a touch of sparkle, go for a glamorous style designed with sequins and encrusted rhinestones.
Harley loves to be at the center of attention, so this is your chance to take a break from traditional lace and satin lingerie and spice things up with a bold and edgy outfit that commands the Joker's undivided attention. Play out your favorite scenes from "Suicide Squad" with the latest Harley Quinn favoriteâ€"a ripped "Daddy's Lil' Monster" T-shirt, blue and red mini shorts, a matching varsity jacket and pigtails to complete the look.
When it comes to role-playing in the bedroom, a Harley Quinn costume is a sexy accessory for taking you and your lover out of the everyday routine and into a wild and crazy world where anything is possible. Take your love life to the next level of high octane sexy when you become Harley Quinn, the iconic sex symbol of the DC Universe.