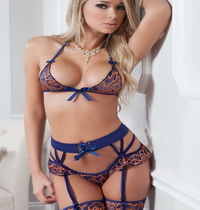 If you're looking for good luck and romance in 2018, what you wear under your New Year's Eve outfit is just as important. Discover the meanings behind popular lingerie colors and get ready for the countdown to a prosperous and sexy new year!
Red
Meaning: Passion, radiance, and love
Purpose: Sets the mood for romance
Fun fact: A New Year's tradition for Italian women is to wear red lingerie for good luck.
Yellow
Meaning: optimism, joy, and cheerfulness
Purpose: Brings wealth and success
Historical tidbit: After the War of Dynasties in 1357, Japanese warriors wore yellow chrysanthemums as a pledge of courage.
White
Meaning: Peace, innocence, clarity
Purpose: Encourages a sense of calm and promotes a pure heart
Blue
Meaning: Royalty, confidence, and inspiration
Purpose: Enhances trustworthiness and boosts overall well-being
Green
Meaning: Prosperity, new beginnings, nature
Purpose: Brings good luck and abundance into your life
Fun fact: In the 19th century, Mexico chose green for its flag to represent independence after gaining its freedom from Spain.
Pink
Meaning: love and harmony
Purpose: Attracts romance into your life and brings balance into relationships
Make it your New Year's resolution to be more colorful in 2018 and ring in the New Year with romance and prosperity.