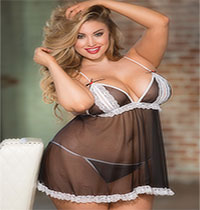 The great thing about lingerie is the variety of styles, silhouettes, and decadent fabrics available. With so many looks to choose from, you can always find the perfect lingerie for your body type. If you're shapely and voluptuous, get ready for high octane sexy with an array of essential garments for every plus-sized lingerie collection. Each piece has a specific function that flatters your curves while drawing attention to all the right places.
Babydoll
Both flirty and romantic, the babydoll is a must-have piece in your lingerie wardrobe. It accentuates the curves without constricting the body and allows for extra coverage of larger hips while pushing up the breasts and showing of sexy décolletage. Look for a lingerie set that comes with a matching thong and garters for even more sex appeal.
Chemise
Similar to the babydoll, the chemise provides a lift of the bust while creating a slimming effect with its form-fitting silhouette. Look for styles in lace or mesh, which will smooth out your curves and soften the look.
Bustier
A close cousin to the famous corset, the bustier is essential for flattening the stomach while providing support for the bust. Known for styles with fancy brocades and dreamy lace, a bustier is also perfect for wearing as a top and spicing up a basic jeans and blouse outfit.
Corset
Over the centuries, the corset has received its share of critiques, but if worn correctly and in the right size, it can actually support the back while creating the classic hourglass figure of legendary pin-up girls. For someone with a large bust, a corset also provides extra support while flaunting sexy cleavage.
Bras and Panties
Look for bras with soft padding that form to the natural shape of your breasts and a push up style with soft lace panels that both support and flatter larger busts. Also, high-waisted panties work great to flatten the stomach and create a smooth, vertical line.
Full-length Gowns
If you happen to be in the mood for something a little more dramatic, start the night out in a full-length gown; it has enough stretch to look sexy and supported but has more coverage than other types of lingerie. Look for a style with an empire or A-line silhouette, which draws the eyes upwards to alluring cleavage while playing down a curvy body. Also, choose rich, dark, monochromatic shades over bright patterns and prints in order to create a sleek and slimming effect.
In the world of lingerie, you'll find lovely garments that look fabulous on any body type. With a collection of plus-sized lingerie that accentuates your best features, slip into something sexy and feel like a goddess in stunning pieces that show off your best features. Whether your lingerie is worn underneath your jeans and top uniform or saved for the boudoir, a flattering undergarment has the power to transform the everyday into the ultimate fantasy in the game of seduction.