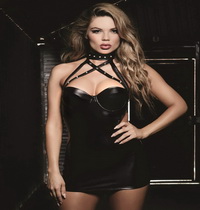 In the world of fantasy lingerie, there is vast selection of undergarment styles to fit any style or occasion, that way you can easily find the perfect lingerie ensemble for all your wildest fantasies. When it comes to spicing things up in the boudoir, it's time to ditch your granny panties and strap into something that pushes you to the next level of high octane sexy.
If you're in the mood for being extra naughty in the bedroom, a varied collection of leather lingerie is an essential addition to your intimate apparel drawer. Add a pair of come-hither heels in a matching shade or accent color and pair it with a sexy club dress for the complete pin-up girl look. Whether you're going out on the town or staying in, make your night unforgettable with leather lingerie, the classic look for good girls gone bad.
Leather Corsets
The leather" class="redactor-linkify-object">http://www.spicylingerie.com/vinyl-leather-bustier... corset is another must-have for a spicy undergarment wardrobe, especially with its striking combination of tough girl edginess and old-fashioned seduction. Even better, the corset gives the illusion of a sexy hourglass figure by slimming the waist and accentuating lovely décolletage. A well-fitted corset not only looks ravishing under your favorite sexy outfit, but it also provides support to the bust and back. The added benefits of leather are the mix and match options, such as wearing it as a sexy top for evening escapades under the moonlight. Pair it with your favorite love-worn denim and heels outfit and get ready to break some hearts.
Leather Babydoll Negligee
The leather babydoll is a match made in lingerie heaven. The soft silhouette of the natural waistline is a ravishing contrast with rough and decadent black or brown leather. The flowing skirtline also allows for easy access to the sexy lingerie underneath, a key design for the bad girl who can't wait.
Teddies and Sexy Sets
All-in-one lingerie ensembles such as teddies are another kinky way to bring out your bad girl persona. Look for styles with plunging necklines, cupless bras, and strappy details that will leave your lover helpless with desire. For a hot look that keeps you strapped in all night long, choose lingerie with a leather harness, an ultra daring style that has many uses, including showing off all your sexiest assets.
The Classic Bra and Panty Set
Leather lingerie can also give the sleek and sophisticated bra" class="redactor-linkify-object">http://www.spicylingerie.com/vinyl-leather-tops-br... and panty set an instant bad girl makeover. Show off voluptuous cleavage with striking embellishments that kick your intimate apparel collection up a notch. Look for devious details with a punch of sparkle and texture, such as silver studs, bows, and see-through mesh.
This season, make the passion last all night when you slip into leather lingerie, a key style for every bad girl's undergarment wardrobe. Made in classic black or natural brown, leather is the perfect way to transform your everyday style into a devilish look that commands attention in between the sheets.