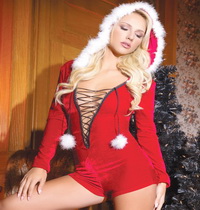 Spicy Lingerie's Ultimate Christmas Lingerie Shopping Guide
'Tis the season for tidings of comfort, joy, and sexy lingerie, a fun and flirty way to keep things hot in between the sheets. It might be cold outside on snowy winter nights but it's the tropics in the boudoir when you slip into something a little more festive, like Santa lingerie in luxurious satin, sheer lace, or plush velvet. Designed with ultra skimpy silhouettes, a collection of sultry Christmas lingerie is sure to put you on Santa's naughty list. Armed with new styles that celebrate your silhouette, get ready to take your love life to the next level with holiday-themed outfits from Spicy Lingerie, the perfect gift for a little naughtiness under the mistletoe.
The Sexy Elf Get-Up
Another way to steal Santa's heart this Christmas is with a sexy elf costume, a must-have addition to your North Pole wardrobe. Make you and your lover jingle all the way to ecstasy when you spread Christmas cheer with an ultra-skimpy spin on the traditional Santa's little helper costume. For holiday lingerie with more coverage, stay cozy by the fireplace in comfy fleece dresses or rompers featured in cheerful red and green and accented with cheery pom-poms. Add a pair of red and white striped stockings and get ready to rock around the Christmas tree.
If you want to push Santa to the brink of desire, be the naughtiest elf in the North Pole in a skimpy two-piece costume featuring a red and green bikini bottom and a matching push-up bra, a daring and provocative take on the classic elf costume. But remember, it gets cold in the winter, so layer this barely-there outfit with a cute elf-inspired tube dress with holiday accents. Stay warm and cozy on the sleigh ride with functional details like hooded tops, shoulder capes, and faux fur boots, a fashion statement that also insulates you from the winter draft. With double layers of luxurious holiday-themed lingerie, make Santa unwrap you like a tantalizing gift, peeling off one layer at a time and heightening the anticipation to the breaking point. Slip into a sexy elf costume and get ready to put the 'X' in Xmas when holly, jolly outfits bring out your wild and passionate side.
Be sure to check out some of our most popular sexy elf costumes here:
Sexy Santa's Elf Holiday Costume
Christmas Lingerie
When it comes to staying warm in the North Pole, a collection of Christmas costumes for adults is an essential for your holiday shopping checklist. Make Santa hurry down the chimney when you show up to your Christmas Eve rendezvous in an ultra flirtatious Santa baby get-up. Look for barely-there bra and panty sets made with soft red velvet and the iconic black belt, a sexy and seductive version of the classic Santa costume. If you want to show off sexy cleavage, look for tops made with an underwire, the magic and function of the push-up bra, which lifts and supports the breasts. Add matching garters and stockings and start dreaming of candy cane wishes and mistletoe kisses. And remember, what happens under the mistletoe stays under the mistletoe.
This holiday season, take center stage at the North Pole when you show up in a sexy Santa costume that celebrates your Christmas spirit. Whether or not you've been naughty or nice, drive Santa wild with lush velvet ruffles that highlight your sexy legs and a matching bust that shows off sexy cleavage with fluffy white trim. Help him deck the halls all night long with playful accessories like a naughty Santa hat or an adorable kitty ear headband with red and green plaid accents. If you're in the mood to purrrrrr with delight on Santa's lap, make your Christmas lingerie outfit complete with a plush Santa hat adorned with flirtatious kitty ears.
Sexy Candy Cane Costumes
Slip into delicious flavors of Christmas inspired intimate apparel and be a candy cane cutie in dangerously short skirts with red and white stripes. For a little more coverage and lots of volume, look for cute ruffled tutus and matching tops, the perfect silhouette for accentuating a petite figure. Look for holiday outfits adorned with rhinestone embellishments, which adds classic glam and sophistication to a dressy ensemble. Accentuate sparkly accents with matching accessories, such as a clutch with crystal detailing and a feather boa for an instant dash of retro Hollywood glam.
If you want to play down a curvy body type, choose silhouettes with a fit and flair skirt, which provides coverage of the hips and thighs while also highlighting sexy bare legs. Monochromatic shades are ideal because they create a slimming effect, and in the case of Christmas, red has been scientifically proven to be the most sexually appealing color in the spectrum.
Winter Costumes
If you're in the mood to show off a voluptuous figure, go bold and celebrate your silhouette in a tight-fitting tube dress inspired by the legend of Frosty the Snowman. If you and your lover are dreaming of a white Christmas, set the mood in a soft and dreamy princess dress designed with a body hugging silhouette, the perfect costume for leaving behind the everyday and walking in a winter wonderland. Look like an angelic snowflake in plush white velvet or stand out in the snow with a hint of blue accents. Either way, make Mr. Frosty melt with desire when you set the scene as a sexy snow maiden.
Holiday Bra and Panties
Your collection of holiday dresses might look gorgeous, but what you wear underneath is just as important, especially if you want to maintain a sleek and sexy silhouette. The best Christmas underwear to fit under body-hugging outfits are bras made with soft molded cups, which are designed to seamlessly provide coverage of the nipples while looking nearly invisible underneath your dress or outfit.
Look for a bra with an underwire, which supports the breasts and highlights sexy cleavage with its supportive lift. This holiday season, make your outfit extra jolly with Christmas Lingerie in red satin, which provides a glossy luster against bare skin. Or show off a glimpse of bare skin with floral lace, which smoothens the skin for a flawless look.
Whatever the season, the game of seduction is all about layering. As Santa takes off each piece of Xmas Lingerie, give him a Christmas present he'll never forget when the lustful anticipation causes a flutter in his stockings. Start with the sexiest part of the outfit – the Christmas underwear. Look for traditional red, a classic holiday color and also known as one of the most seductive shades. Look for sheer fabric like chiffon or fishnet, which conceals and reveals simultaneously, creating a smooth and silky silhouette. Wear it as a chemise over matching bra and panty sets and show off a sexy midsection.
A layering staple in the world of lingerie, Christmas panties and matching bras are a must-have addition to your holiday wardrobe. Combine it with a chiffon baby doll négligée and show off skimpy panties while accentuating any body type with a natural and flowing waistline. Another fun option for layering over Christmas bra and panty sets is a vampy version of the traditional Santa costume. Look for sleek tube dresses made with plush red velvet and a short hemline accented with white trim. If you're in the mood to rock around the Christmas tree as a mischievous elf, try the short and body-hugging Santa costume in green and red, a cheery combination perfect for stealing kisses under the mistletoe.
If you want to show Santa you've been nice this year, show him your sweet side in lingerie bra sets that resemble a sugary confection. Make the sleigh ride even sweeter with shimmery red satin push-up bras and matching bottoms accented with power white trim. Choose from whimsical ruffled skirts or naughty and jolly panties featuring open back cut outs and pretty bow accents.
Or slip into something even skimpier like Christmas panties paired with a sexy bustier and garters for a dash of vintage glam. This classic piece features the functionality of the underwire, which helps to support and lift the breasts for sexy décolletage. Add matching stockings and get ready for Santa to hurry down the chimney and fill your stockings with holiday cheer of the sinful variety.
Sexy Santa Costumes
If you've been naughty this year, slip into a sexy Santa costume like a barely-there romper in red velvet and pair it with matching suspenders for a touch of playfulness. Or be a sexy holiday vixen in a satin romper with side cut outs and a plunging neck line. Finish the look with fluffy white or red snow boots and a Santa hat and steal Santa's heart faster than the Grinch stole Christmas.
Find some of our top selling sexy Santa Costumes here:
The Christmas Party Dress
Another must-have for your holiday checklist is the sleek and elegant evening gown, an ultra glam look that's perfect for the annual Christmas party. Show off voluptuous curves in a form-fitting silhouette and go for a dramatic fashion statement with a floor sweeping hemline and a high cut slit that shows a glimpse of a sexy bare leg. Go with traditional fire engine red and be the prettiest vixen at the party. The little black dress is another option for glamming up your holiday fashion. This Christmas, be Santa's number one baby in a luxurious black tube dress with a plunging neckline and rhinestone embellishments for a dash of sparkle.
If you're dreaming of a heat wave in the middle of winter, create your own tropical paradise in the boudoir with a super short mini dress designed with traditional Santa accents. Play up the look with come-hither boots in black vinyl and matching fishnet stockings, and surprise Saint Nick with a skimpy candy cane bikini underneath.
Floor length gowns look the best on taller figures while shorter body types should look for short skirts that show off sexy legs and create an elongating effect. When it comes to accessories, Christmas is the perfect time to make a bold fashion statement, especially if you want to get Santa's attention. Complete the look with fun and jolly accents like a Santa hat and fuzzy snow boots or keep your look classic with a clutch and matching heels in a complementary accent color.
Men's Christmas Lingerie & Loungewear
In the incredibly versatile world of lingerie, men can also join in on the fun of dressing up for the holidays. Just like a woman's holiday lingerie collection, men's Christmas outfits are all about sexy and provocative layers, starting with a pair of skimpy thong underwear. Set the scene for adventurous foreplay in front of the fireplace when you surprise and delight your lover with a sparkly red thong or boxer, which can easily fit under a traditional Santa costume.
If you're one of the lucky few to witness Santa coming down the chimney, he deserves a plate of cookies and milk and so much more if he shows up in a sexy boxer and hat set designed with plush red and white accents. Santa might have a reputation for being round and robust, but as soon as his traditional costume comes off, let the game of seduction begin when he gives you the best present under the Christmas tree---his glistening abs of steel accentuated with lavish seasonal fabric. Ho, ho ho!!! Merry Xmas!!!
The sexy thong also pairs well with satin lounge pants, another luxurious layer to incorporate into the overall outfit. Complement the jolly and festive look with posh lounge wear like a red satin robe, an essential piece for lounging in front of the fireplace with a cup of hot cocoa. Show off glistening abs in ultra luxe holiday undergarments and get ready to drive Miss Claus wild with passion and lust.
With outfits this sexy, it's beginning to look a lot like Christmas, so be prepared to celebrate the season with a few essential pieces that are sure to warm up a cold and snowy night.