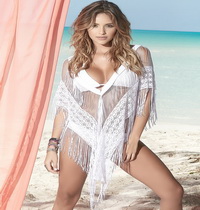 This summer, make a splash in the best swimsuits for your body type and always look fabulous, whether you're lounging by the pool or frolicking in the ocean. From trendy one-pieces and monokinis to triangle tops and cute cover-ups, discover the most flattering styles for your silhouette and get ready to soak up some rays in the cutest swimsuits of the season.
A must-have for your summer checklist is the one-piece swimsuit,which offers support for the chest while bringing attention to long legs. Choose a monochromatic shade in bright shades of yellow or jewel-toned colors to accentuate your tan while making you look taller with its slimming effects. A one-piece can also double as a bodysuit that you can pair with your favorite denim cut-offs or shorts for a cute look that takes you straight from the sand to dinner. A trendy style this season is the monokini with midsection cut outs, a cute and sexy detail for showing off yourmidriff.
For petite, small-busted figures, bikinis designed with feminine floral prints create the illusion of stature, which helps to highlight your slim silhouette. Look for styles with a push-top and extra padding to show off sexy cleavage. Skimpy bikinis made with a low-cut bottom and strappy details also look stunning on smaller body types because it elongates the midsection and makes you look lankier.
If you're looking for a swimsuit that provides more coverage than the classic two-piece, you'll love the sexy and stylish bikini skirt, which is perfect for curvy figures. Designed with fringe trim, this swimwear accessory can be tied on and worn over your bikini for a sexy and sophisticated look that is sure to make waves at the beach. The longline bikini top is another trendy style that gives extra support of the bust with its additional fabric under the chest. This multipurpose look offers a comfortable fit with padding and underwire that pushes up and support the breasts, which is perfect for both swimming and sunbathing. A sporty swimsuit that doesn't compromise style, it also looks fantastic on any body type.
A selection of cute cover-ups is another essential addition to your beach wardrobe. Look for styles in shades that compliment your swimsuit collection or choose a solid color such as white, which is versatile enough to go with any style bikini. Bring attention to your sexy legs with fringe details and show off your lovely tanned skin underneath with sheer fabric that also dries quickly. A beach romper is another popular style that's perfect for those moments when you want more coverage and functionality during those long walks on the beach or when you're having poolside cocktails.
Summer is finally here, which means seemingly endless sunny days and blue skies, a perfect excuse to show off your silhouette in the cutest swimsuit styles of the season. Whatever your body type, get ready for fun in the sun in swimwear designed to make you feel gorgeous in and out of the water.