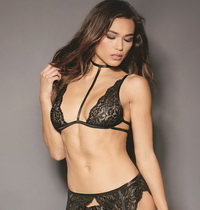 How to Wear Lingerie as Outerwear in Winter
Starting in the 90s with Jean Paul Gualtier, the underwear-as-outerwear trend has become a go-to style for top designers season after season. And that's a good thing, especially since the lace trim, satin bows and shimmery satin of lingerie makes it a sweet--and sometimes naughty--confection that's too pretty to be covered up under clothing, even during winter.
When it comes to nailing this enduring trend, it's all about choosing the right accessories, especially the coat or jacket, which offers a layer of warmth and an effortless style that allows the beautiful details of your lingerie to shine through. A trendy way to stay warm in your favorite lingerie is with a black motorcycle jacket, an edgy statement piece that toughens up romantic florals, luscious ruffles, and delicate lace overlays. Frame the look with matching boots and fishnets for a winter outfit that gives you a touch of street-smart elegance and bedroom luxury.
For a striking silhouette, go bold and daring with contrasting layers of classic and modern, like a sheer lace bodysuit worn with your favorite demi-cup bra in a matching monochromatic color. Finish the look with your favorite pair of love-worn jeans, ankle boots, and a jacket as the final layer. Give the look a hint of cowboy boho chic with a fringed leather jacket or go for a polished style with a tailored blazer in power black.
A runway favorite is the slip dress, which gives an everyday outfit a hint of classic luxe with shimmery satin and lace trim accents. Instantly transform this delicate nightie into a polished and put-together outfit when you pair it with knee-high boots and a structured trench coat or blazer in a matching color. Complete the outfit with a choker necklace or your favorite scarf for an extra layer of warmth and style. Another option is a silky duster jacket, which gives your style more of a boudoir feel.
A big trend this season is athleisure, which captures the spirit of today's anything-goes fashion with its playful mix-and-match of comfy luxe. For a style that epitomizes varsity cool, pair a sports bra with a sheer mesh bodysuit and make it extra sporty by framing the look with track pants and a sports jacket. Slip on a pair of chunky platform sneakers for a look that takes you anywhere.
Signature lingerie pieces like bralettes are also a chic solution for providing extra coverage to tops and dresses with side cutouts and plunging necklines. To make your outfit appear deliberate and not a wardrobe malfunction, choose a style that stands out with bold details, like modern, strappy edging and monochromatic blocks of color. Add knee high boots and stockings for double the warmth and elegance. To maintain the posh luxuriousness of your lingerie-themed outfit, wear it with a silk shawl, which also doubles as a jacket.
Don't let frigid temperatures stop you from taking your favorite lingerie out for a spin. Because when it comes to staying warm and looking fabulous, it's all about accessories.