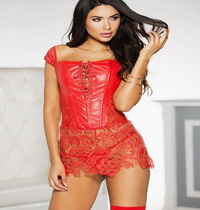 How to Look Sexy But Stay Warm This Winter
This season, use the cold northern winds as an excuse to bundle up in sexy eye-catching layers, starting with a foundation of alluring intimate apparel. With each layer of luxuriousness, have fun mixing and matching different styles, textures, and fabrics as you add another cushion of coziness and warmth to your winter outfits. Add something silky or shimmery to peak from underneath your sweater or trench coat and throw on a pair of matching come-hither boots for a sexy winter look that keeps you warm while stoking the fires of passion on cold winter nights.
Corsets work well under tight-fighting sweaters, which are essential to a sexy winter wardrobe because it keeps you warm while outlining a voluptuous hourglass figure. A well-fitted corset also provides back support while accentuating and lifting décolletage. Slip on a lace negligee or simple cotton tank and add a layer of thick cable knit, which fits snugly under a curvy figure. A close cousin to the corset, the bustier is another option for pairing with winter wear, especially the trench coat, a sharp contrast to the fancy brocades and details of the lingerie underneath.
For an edgy and modern winter look, choose a delicate bralette with intricate strappy details, an ultra trendy style in the lingerie world. Pair it with a low-cut sweater and make it flirty by showing off a glimpse of sexy, must-see straps. With the inventive use of the underwear as outerwear concept, let the bras show off their strappy sides. Add a burst of whimsical romance with a floral print scarf and you're ready to make heads turn when you step into your winter wonderland.
Simple and yet sleek and sophisticated, the matching bra and panty set is a must-have for the basic building blocks of any winter outfit. You might be hiding your sexy self underneath a large coat but when your love undresses you by the fireplace, they'll find a ravishing treat underneath. Another way to add another layer a warmth and style is with thick wool leggings, a warm-weather accessory that pairs well with almost anything, including under jeans, with your favorite frock, or worn with an oversized cardigan or sweater.
Add a dash of glam to your winter wardrobe with metallics, which give the illusion of stature. Look for long sleeve tunics or body-hugging sweaters made with gold and silver accented fabric. Another must-have piece of your winter ensemble is the faux fur coat, which keeps you warm and always looks fabulous with just about anything. Dress it up with a fancy frock or trousers or keep it casual and pair it with your favorite pair of jeans or boots. Winter is also a perfect time to accessorize with gloves, scarves, and tall boots.
It might be cold outside, but that doesn't mean you have to compromise style. In fact, winter is one of the best times to show off all your favorite jackets, coats, and your sexy layers underneath.